Who We Are
Daruma Tech is more than a team of software developers. We're a technology consulting agency—because great apps and websites are not just about code. The best and latest technology won't do you any good if it's not the right fit for your users, your industry, or your goals and budget. That's why every Daruma Tech engagement starts with people, not programming.
.
The Right Solution Starts and Ends and You
We believe developers shouldn't touch their keyboards before understanding the full ecosystem surrounding your project—your industry, your users, your company culture, and your challenges and goals. Thus, your project starts with a conversation between you and our team of expert developers and business, marketing, and IT specialists. During our conversation, we will dig deep into how we can create the perfect solution for you and your users:
Who will be using your app, website, or other solution, and how will they be using it?
What pain points do you want your solution to address?
What kind of changes and growth do you foresee in your industry, and how can we help you prepare for them?
We also understand that technology can be intimidating, and your needs may change as your project evolves—so we make sure you feel comfortable reaching out to us with questions or concerns. We always welcome your questions and take care to keep you in the loop as your project progresses.
Technology with a Human Touch
The digital marketing world changes fast, and it's our job to ensure you stay ahead of the game. Our expert developers stay on top of the latest advancements in technology through regular continuing education—they not only hold the latest advanced certifications from Microsoft and other major vendors, they keep their ears to the ground for the latest trends and best practices.
But their work doesn't end there. Our developers work hand in hand with a crack team of designers and UX and UI specialists to deliver a website or app that's not only robust and secure, but attractive, engaging, and satisfying to use.  Whether you want a mobile invoicing app to make life easier for your sales team or augmented reality features to surprise and delight your customers, we can make it happen.
We Don't Just Build Software. We Build Relationships
Our commitment to you doesn't end when we deliver your solution—we remain accountable to you throughout the lifetime of the product.  You can always count on us for troubleshooting, updates, training, and any other follow-up support you need to get the most from your solution.
We're also available to lighten your workload by caring for your long-term technology needs, including cloud storage; remote monitoring, maintenance, and updates of your systems; and more. As your IT partner, we free you to work smarter—not harder.
Can your business benefit from a technology partner who puts your needs first? Contact us to learn more.
So, what does Daruma mean?
In Japanese tradition, the Daruma doll is a symbol of fortune, resilience, and goal-setting. Daruma dolls are designed to stay standing—if knocked over, they pop back upright immediately.  By tradition, they come with empty eyes: Owners paint in one eye upon setting a goal for themselves, and paint in the second eye only once the goal has been completed.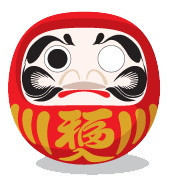 For us, the Daruma doll reflects our relentless commitment to helping our clients achieve their goals. When you work with us, you'll have a partner as committed to your goals as you are, with the experience and know-how to provide smart technology solutions that will keep you standing, no matter what.

Daruma Tech has development staff located in the Research Park at Florida Atlantic University in Florida and at Gateway Technolabs in India.
The Research Park at Florida Atlantic University, with campuses in Deerfield Beach and Boca Raton, exists to provide a supportive environment in which companies engaged in the research and development of new and innovative products can thrive. Many of the essential resources necessary for the success of the Research Park's tenants can be found in their neighbor, Florida Atlantic University.
Gateway Technolabs is a global information technology services, solutions and product engineering company with more than 1400 brilliant professionals serving customers across 30 countries in 5 Continents. Gateway has expertise in across a variety of domains including Automotive, Healthcare, Publishing and Media, Entertainment and Gaming, Banking & Financial Services, Manufacturing and Engineering, Retail, Public Sector, Software Product Houses and Independent Software Vendors.