Daruma Tech partnered with the South Florida Regional Transportation Authority (SFRTA) to create an engaging, user-friendly mobile app for passengers of its Tri-Rail commuter railway system.
Serving a fast-growing urban area of over 5 million residents, SFRTA strives to contribute to the economic growth and quality of life in south Florida by providing public transportation that meets the needs of commuters and their communities.
Client Overview
The SFRTA's Mission Statement: To coordinate, develop and implement, in cooperation with all appropriate levels of government, private enterprise and citizens at-large in the community, a viable regional transportation system in South Florida that endeavors to meet the desires and needs for the movement of people, goods and services.
Client: South Florida Regional Transportation Authority (SFTRA)
Location: Pompano Beach, Florida
Industry: Public Transportation
Daruma Tech Services: Technical consulting, requirements gathering, front-end and back-end app development, UI/UX design, regular updates and maintenance.
Challenge
Serving an area spanning three growing metropolitan areas (Miami, West Palm Beach, and Fort Lauderdale), SFRTA sought a simple, cost-effective way to make travel easier and more attractive for users of its Tri-Rail commuter rail system. Daruma Tech was faced with the challenge of providing a solution to SFRTA's two user-bases: the daily commuter and the South Florida tourist.
Discovery
Daruma Tech began the process of solving these challenges by conducting audits of other transit mobile apps. We documented the client's vision with the data from the audits to create a non-functioning proto-type. This was developed and presented to the client's testing department.
During the testing sessions, we focused on understanding the differences between the two app users, the daily commuter and tourist. Our goal was to accurately communicate these attributes through the new mobile app.
After compiling all of the data from these strategy sessions, a plan was developed, presented to the client and approved.
Solution & Implementation
Daruma Tech created a dynamic mobile application, available for both Android and Apple devices, which allows Tri-Rail riders to plan their trips, calculate their fares, and monitor train locations and estimated arrival times in real time. Users can also receive notifications of service interruptions through the app. In addition, the app offers users both general information on the Tri-Rail system as well as specific information about each station. It also lets users see descriptions of points of interest near selected stops
The app also includes two features to enhance the rider experience: "My Ride" and "Next to Arrive."  "My Ride" allows users (specifically the daily commuters) to save information about trips they take frequently on Tri-Rail trains and Commuter Connector buses and provides countdowns to the closest upcoming trip based on their selections. "Next to Arrive" allows users to select a Tri-Rail station and see information about the next Tri-Rail train or Commuter Connection bus due to arrive at that station. Daruma Tech incorporated a "Destinations" section which helps tourists plan their trips accordingly as well.
Daruma Tech will also provide SFTRA with updates and upgrades to the app as needed.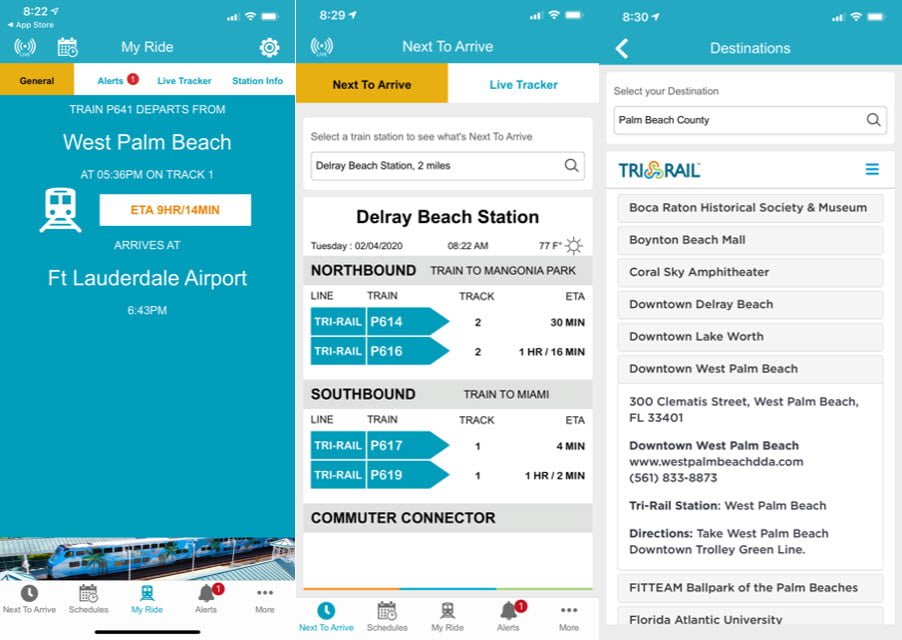 Results
Daruma Tech delivered the dynamic mobile app on time and under budget, responding nimbly to several operational and technical changes at SFTRA during the construction of the app.
"Daruma Tech delivered a mobile application that fully met the requirements of SFRTA's specifications and the expectations of our many stakeholders. And they did so on schedule and within the allocated budget. In doing so, this company demonstrated both technical prowess and aptitude for excellence in project management. For these reasons, I can wholeheartedly recommend Daruma Tech as a proficient, professional provider of technical services and application development."
Renee Matthews
Comptroller/Director of Information Technology, South Florida Regional Transportation Authority
Latest Articles
BOCA RATON, FLA— Brewer's Marketing, a Boca-Raton-based designer of custom mobile apps for the craft brewing market, has been tapped by the Texas Craft Brewers Guild to create an app showcasing the state's independent breweries. The app will allow craft beer aficionados in Texas to find breweries near them, map out tours to breweries, and earn [...]
BOCA RATON, FLA—Even as the COVID-19 pandemic has forced bars and restaurants to close their dining rooms and taprooms, independent craft breweries are continuing to engage customers, exploring safe and novel ways to serve their communities, and cultivating new fans, thanks to Brewers Marketing's dedicated mobile app and marketing [...]
Daruma Tech was approached by the Museum of Discovery and Science in Fort Lauderdale with the task of creating a way for students to showcase their internship projects. This solution needed to be integrated with the MODS existing mobile application as well as provide a seamless UI/UX experience for [...]
Tell Us About Your Project