CUSTOM SOFTWARE DEVELOPMENT FOR MUSEUMS, ATTRACTIONS
AND HISTORICAL SITES
Daruma Tech is pleased to be able to offer its comprehensive event and attraction solution for your companies event and attraction needs. By implementing our app, you'll significantly enhance your visitor experience and benefit from a unique app that is rapidly deployable and affordable, with the flexibility to adapt to your future needs.
"The most impressive characteristics the staff demonstrated during this project was their ability to listen to our ideas and concerns. They also provided brilliant solutions to make the app better.

I am excited to continue to work with Daruma Tech in the future and I highly recommend Daruma Tech to anyone that has software development needs."
"As a non-profit, finding a reasonably priced solution was a key factor in our selection of Daruma Tech for this project. You exceeded our expectations through great communications and responsiveness through the development process.

We look forward to continuing our relationship in the development of a site-wide app for the nature center."
"The museum was impressed with the firm's proposal. We also engaged Daruma with some experimentation with 3D documentation, and once the opportunity came along, it was a good fit.

Working with Daruma has been exciting, as both the museum and the firm are experimenting with new interpretive technologies that will change the way visitors experience aspects of historic sites."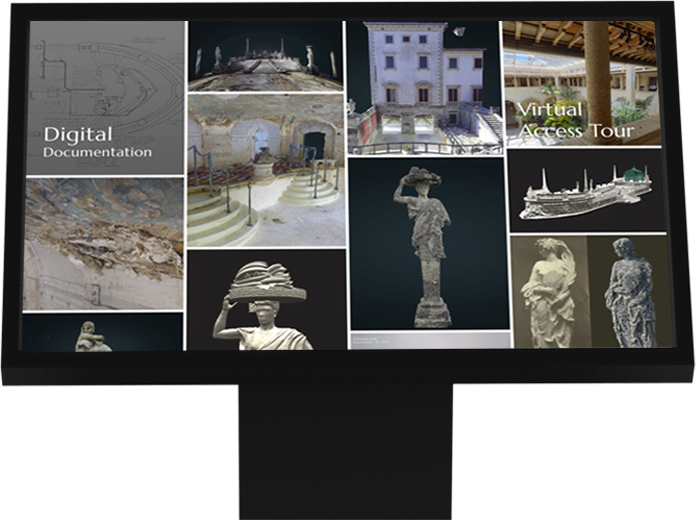 INTERACTIVE KIOSK SOFTWARE
Our kiosks give our clients the ability to engage with their visitors in new, more interactive ways. They serve as a great tool to provide them with more detail about each of the objects and exhibits throughout the museum with 3D models and virtual tours they can use to navigate and explore these areas.
Another important aspect of having kiosks is the improved accessibility. These digital displays give visitors with limited access the opportunity to experience areas of the museum that otherwise would constitute a challenge. On the same note, it is often that some sections of a museum are closed to the public for preservation purposes. Having a kiosk nearby with virtual tour capabilities gives visitors the chance to see them up close. A great example of this, is the barge at Vizcaya Museum & Gardens, which is located at sea level and inaccessible to the public. Their kiosk is integrated with a point cloud model of the barge so it is still a part of the experience.
CUSTOM MOBILE APPS
It is no secret that having a mobile presence can do wonders for any organization. Cultural spaces are not the exception. The power of a custom mobile solution is in its functionality and interface. At Daruma Tech we build beautiful apps integrated with features such as Augmented Reality, ticketing, virtual tours and more.
One of our most recent clients is the Museum of Discovery & Science of Fort Lauderdale. Their app is unlike any other in that it was built to showcase the work of the students of the museum's APP•titude program, which fosters learning in the technology field and teaches High School students skills in programming, graphic design, video editing and more. The app contains modules, developed by each group of students, which showcases the different exhibits throughout the museum and promotes the interesting aspects of each one. Therefore paying back to the museum by encouraging others to visit their installations and get involved in their programs.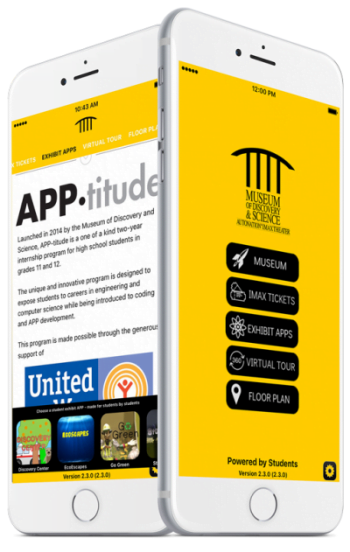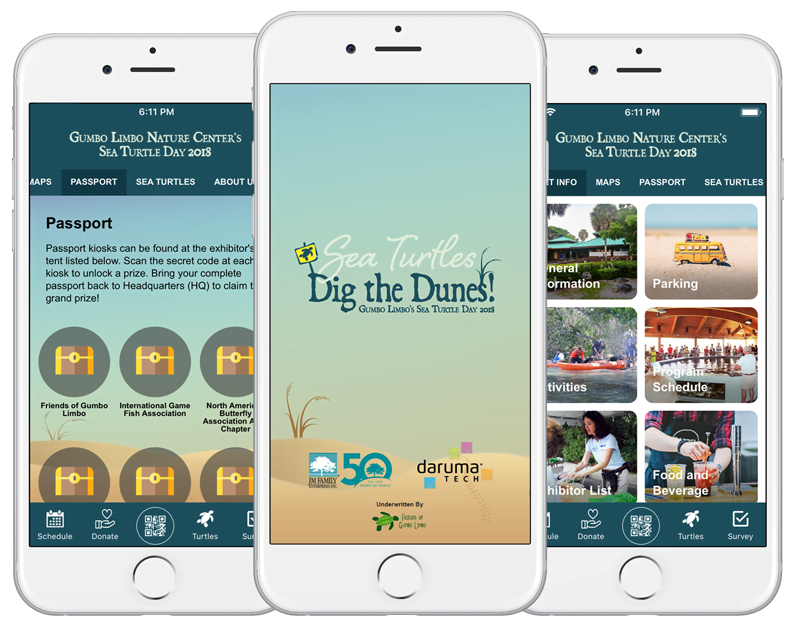 EVENT APPS
Hosting an event at your museum and making sure that every detail is taken care of can be a difficult task. Event apps are great to provide visitors with information about all the different activities that will be taking place during the event. They can have directions, parking instructions, schedule and more, in the palm of their hands via their mobile devices.
What's great about our event apps is that they not only serve as an informational tool but are also integrated with interactive features such as passport program, treasure hunt games, and other visitor-engaging capabilities. We recently developed an open-source app for the Sea Turtle Day event at Gumbo Limbo Nature Center in Boca Raton. They were delighted to see visitors participating in their passport activities in which they scanned QR codes throughout the nature center to collect 3D models of the turtles that call Gumbo Limbo their home. The turtles would pop out of a treasure chest once the respective QR code had been scanned to reveal an impressive 3D illustration along with educational details about that species.
Our Platform
Our cloud-based platform starts collecting customer data as soon as the app is downloaded. Analytics from all of your customer engagements can be seen right in your dashboard, from how many customers downloaded your app and where they're located, to how many times they have visited the museum.
Manage Your Content On The Go
Mobile content management lets you update your app quickly and easily from your desktop or laptop—no need to reload the app to the app stores, content automatically updates the next time a user opens the app allowing you to share your news about exhibits, programs, and events faster.
Your app makes it easy to share your latest exhibits, programs, and other news with your community, even when they're not at the museum. Just upload your news through your user-friendly dashboard, and it appears instantly on the app, ensuring your users always get timely and relevant information.
Uploading or changing video, audio, architectural drawings and renderings or image files is quick and easy—and multimedia assets ensure users a richer, more immersive experience.
Easily manage administrative access to your app's content management platform. You can assign team members different roles and levels of access to the admin tools as needed.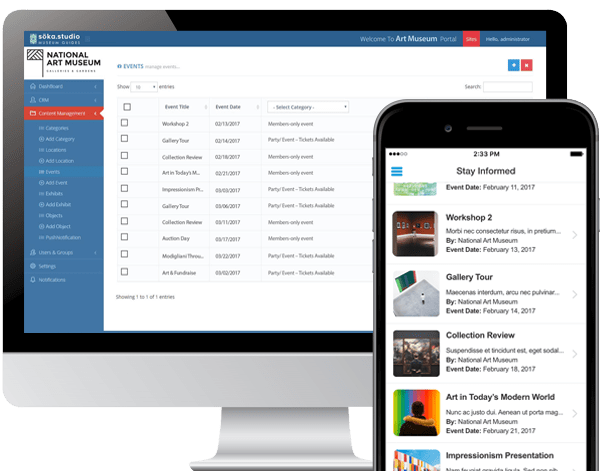 Custom Mobile App Development
Two-thirds of Americans own a smartphone, which is why it is vital for museums to make mobile apps part of their marketing and outreach strategy. Mobile apps are an ideal tool for keeping your mission relevant and attracting and educating new visitors and members. Jump on the mobile bandwagon today and discover how easy it is to connect and engage with your visitors while growing your visibility and support.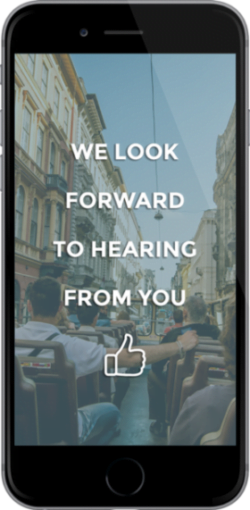 Contact Us To Discuss Your Project